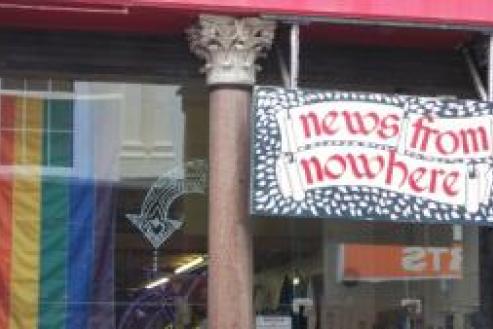 "ShoutOut" is proud to bring you the sizzling summer's hottest reads for the LGBTQIA book lover, all curated for us by Liverpool's feminist, queer and LGBTQIA bookstore "News from Nowhere" at 96 Bold Street - telephone 0151 708 7270 for your orders.  They do a mail order service throughout the UK and internationally.  Also, do remember that there are now many LGBTQIA and radical bookstores the length and breadth of the United Kingdom with whom you can place your orders.  Support LGBTQIA, womens and minority run businesses, and workers' co-operatives.  They give back to your communities.  
LGBTQ+ BOOKS – 14TH AUGUST 2022 
1. Rainbow Rainbow, by Lydia Conklin 
A collection of stories that celebrate the humour, darkness and depth of emotion of the queer and trans experience that's not typically represented: liminal or uncertain identities, queer conception and queer joy. In this delightful debut collection of prize-wining stories, queer, gender-nonconforming and trans characters struggle to find love and forgiveness, despite their sometimes comic, sometimes tragic mistakes. £14.99, hardback 
2. A Quick & Easy Guide to Asexuality, by Molly Muldoon and Will Hernandez 
Too many young people grow up believing that their lack of sexual desire means they are broken, so writer Molly Muldoon and cartoonist Will Hernandez--both in the ace community--are here to shed light on society's misconceptions of asexuality and what being ace is really like. This book is for anyone who wants to learn about asexuality, and for ace people themselves to validate their experiences. £6.99, paperback 
3. 100 Queer Poems: An Anthology, by Andrew McMillan and Mary Jean Chan. Mary Jean Chan and Andrew McMillan's luminous anthology, 100 Queer Poems, is a celebration of thrilling contemporary voices and visionary poets of the past. Featuring Elizabeth Bishop, Langston Hughes, Ocean Vuong, Carol Ann Duffy, Kae Tempest and many more. Encompassing both the flowering of queer poetry over the past few decades and the poets who came before and broke new ground, 100 Queer Poems presents an electrifying range of writing from the twentieth century to the present day. £12.99, hardback 
4. Bi: The Hidden Culture, History and Science of Bisexuality, by Dr Julia Shaw. A provocative and eye-opening book on the science and history of bisexuality, from the internationally bestselling author and co-host of BBC podcast Bad People. In Bi: The Hidden Culture, History and Science of Bisexuality, Shaw explores all that we know about the world's largest sexual minority. From the hunt for a bi gene, to the relationship between bisexuality and consensual non-monogamy, to asylum seekers who need to prove their bisexuality in a court of law, there is more to explore than most have ever realised. This rigorous and fun book will challenge us to think deeper about who we are and how we love. £16.99, hardback 
5. This Wicked Fate, by Kalynn Bayron. Briseis's mother is dead, but there is one chance to bring her back: find the last piece of the deadly Absyrtus Heart. If Bri is to locate the missing piece, she must turn to the blood relatives she's never known, learn of their secret powers and take her place in their ancient lineage. But Bri is not the only one who wants the Heart, and her enemies will stop at nothing to fulfil their own ruthless plans. Strengthened by the sisterhood of ancient magic, can she harness her power to save the people she loves most? Kalynn Bayron, bestselling author of Cinderella is Dead and This Poison Heart, returns with the second and final book in this stunning, empowering and inclusive fantasy duology. £7.99, paperback 
6. Sensible Footwear, by Kate Charlesworth. Cartoonist Kate Charlesworth presents a glorious pageant of LGBTQI+ history, as she takes us on a PRIDE march past personal and political milestones from the 1950s to the present day. Peopled by a cast of gay icons such as Dusty Springfield, Billie Jean King, Dirk Bogarde and Alan Turing, and featuring key moments such as Stonewall, Gay Pride and Section 28, Sensible Footwear is the first graphic history documenting lesbian life from 1950 to the present. It is a stunning, personal, graphic memoir and a milestone itself in LGBTQI+ history £17.99, paperback 
7. Fun Home, by Alison Bechdel. Fun Home is a fresh and brilliantly told memoir marked by gothic twists, a family funeral home, sexual angst and great books. Like Marjane Satrapi's Persepolis it's a story exhilaratingly suited to graphic memoir form. Through a narrative that is alternately heart-breaking and fiercely funny, we are drawn into a daughter's complex yearning for her father. When Alison comes out as homosexual herself in late adolescence, the denouement is swift, graphic - and redemptive. £9.99, paperback 
8. This Arab Is Queer: An Anthology by LGBTQ+ Arab Writers, edited by Elias Jahshan. This ground-breaking anthology features the compelling and courageous memoirs of eighteen queer Arab writers – some internationally bestselling, others using pseudonyms. Here, we find heart-warming connections and moments of celebration alongside essays exploring the challenges of being LGBTQ+ and Arab. From a military base in the Gulf to loving whispers caught between the bedsheets; and from touring overseas as a drag queen to a concert in Cairo where the rainbow flag was raised to a crowd of thousands, this collection celebrates the true colours of a vibrant Arab queer experience. 
9. All The Things She Said: Everything I Know About Modern Lesbian and Bi Culture, by Daisy Jones. All The Things She Said explores the nature of 21st century queerness. Lesbian and bi culture is ever-changing and here, journalist Daisy Jones unpicks outdated stereotypes and shows how, over the past few years, the style and shared language of queer women has slowly infiltrated the mainstream. The book shines a light on the never-ending process of coming out, what it's like to date as a queer woman, how physical nightlife spaces have evolved into online communities and the reasons why mental health issues have disproportionately impacted LGBTQ+ people. 
10. Courage to Be: Organised Gay Youth in England 1967 - 1990, by Dr Clifford Williams. The London Gay Teenage Group was a unique and ground-breaking youth group. Set up and run by young people themselves, it achieved what many thought as impossible: registration as an official youth club catering mainly for gay and lesbian young people, at a time when gay male sex was still totally illegal for anyone aged under 21. Surviving for over 20 years, the group helped many young people navigate challenges, such as rejection by society, parents and family, schools, and the workplace. Documented by former LGTG member Dr Clifford Williams and set in the context of the wider debate and activity of organised gay youth in England, this book offers a new and rarely written about picture of gay youth in England 1967-1990. 
Why not support LGBTQIA, independent and progressive bookstores when making your purchases.  As well as News from Nowhere in Liverpool, here are some others, but this list is by no means exhaustive.  Consult online to see what bookstores are local to you.   
Category Is Books, Glasgow, Scotland 
Gay's the Word Bookshop, London, England 
Paned o Gê, Cardiff, Wales 
Shelf Life, Cardiff, Wales 
Proud Geek, Birmingham, England 
Queer Lit, Manchester, England 
The Bookish Type, Leeds, England 
The Portal Bookshop, York, England 
Lighthouse- Edinburgh's Radical Bookshop, Edinburgh, Scotland 
The Queery (online and fundraising to open a branch in Brighton) 
Housmans Radical Bookstore, 5 Caledonian Road, King's Cross, London 
The Feminist Bookshop, 48 Upper North Street, Brighton 
The Calder Bookshop, 51 The Cut, London 
Bookmarks Socialist Bookstore, 1 Bloomsbury Street, London 
Freedom Anarchist Bookstore, Angel Alley, 84b Whitechapel High Street, London 
56 Infoshop (Anarchist and Radical Centre and Bookstore) 56s Crampton Street, London SE17 
October Books, 189, Portswood Road, Southampton, SO17 2NF 
Gay Pride Shop and Bookstore, 2nd Floor, Afflecks, Manchester M4 1PW 
BASE Centre, 14 Robertson Road, Bristol 
People's Republic of Stokes Croft Bookstore, Jamaica Street, Stokes Croft, Bristol