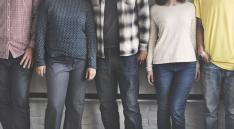 We've known the guys and girls at Freedom Youth now since the days ShoutOut started, but today we caught up with them live on air. Many new faces, but the group is going strong. Andy and Nat quizzed the youngsters about the group and modern youth LGBT life.
Last week, Cheryl reported from Trans Pride - well we saved this bit until this week. She caught up with Cathy Caton, Andy's counterpart on "Out In Brighton" who is up for a National Diversity Award.
And the Pout Film Festival. Did you miss 52 Tuesdays? Well Lucy had details of how you can get to see it again.