Add An Event
Events across our broadcast area
Can't see your own event? Why not add it yourself?
A Dartington Outing
22 Sep 2017 - 7:00pm

A Dartington Outing is a major queer arts festival – seven days of queer arts and bent events to mark 50 years since the partial decriminalisation of homosexuality in the UK.
The impressive programme includes films, a visual art exhibition, theatre and live arts, music, social and family events.
Featuring the work of local, national and international queer artists and creatives,... View Event
Free Monthly Social Meet-Up For Gay/Bi Men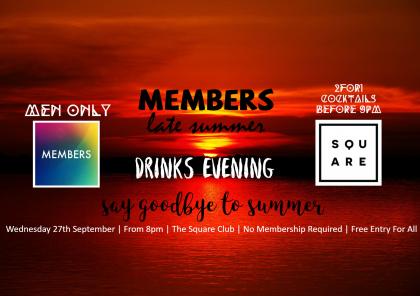 27 Sep 2017 - 8:00pm

Members is a free men only social group, intended to be an alternative to 'The Scene'. Don't be put off by the name, you don't have to join. Just turn up on the night and be introduced to new friends by our friendly, laid back hosts.
We host monthly get-togethers in The Square Club, just off Clifton Triangle. We also host occasional events on other venues throughout... View Event
Red Run
26 Nov 2017 - 9:00am

This year Brigstowe are running the Red Run. This is a yearly fun run around World AIDS Day aimed at raising money for HIV charities. We are putting on a coach from Bristol for anyone running for Brigstowe.
You can sign up to the run here: www.redrun.org.uk
View Event